Breakfast
DrupalCamp LA will be providing quick breakfasts each morning at the camp. We are having the Engineering students from UCI hand out both coffee and breakfast bites like bagels, muffins, fruit, and cream cheese. Its first come, first serve, starting at 8am.
Lunch
Lunch is served 11:30am-1:00pm for $9 (tax included) at the all-you-can-eat buffet Pippin Commons, a 5 minute walk from the Engineering quad. It's an easy location to meet up for a birds-of-a-feather (BoF) discussion over lunch. Payment with cash is fastest; they also accept MasterCard or Visa.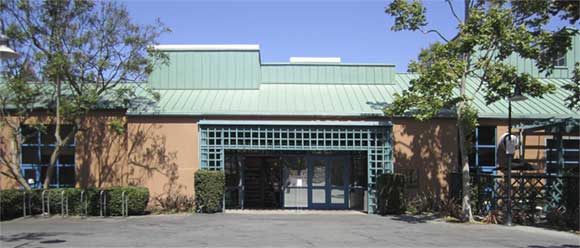 All on-campus retail restaurants are closed on the weekend with the exception of Stabucks and Wendys in the Student Center (a 10 minute walk) open on Saturday (only) 10:00am-4:00pm.
Drupal after Dark, Saturday, August 7, 7PM
UC Irvine Anthill Pub

We have the UC Irvine Anthill Pub reserved for Saturday night, sponsored by MediaTemple. The Pub will have their kitchen open for dinner so you will be able to purchase something to eat while hanging out, cash only. There are ATMs nearby.
http://2010.drupalcampla.com/sessions/saturday-nighttime-private-party
Off-campus restaurants
Located just across the street from campus there is a number of local and chain restaurants.
Directly across Campus Dr. (a 10 minute walk) is the University Center shopping center with a variety of sit-down and fast food restaurants including:
Steelhead brewery
Veggie Grill
Asia Noodle Cafe
Chakra Indian Cuisine
Lees Sandwiches
Z Pizza
Peet's Coffee (hours: 6a-11p)
Jack-in-the-box
In-n-Out Burger
KFC/Taco Bell
A little farther down Campus Dr. (a 15 minute walk) is Campus Plaza with:
Del Taco
Gina's Pizza
Starbucks Coffee
A 5-minute drive off-campus at Bison Ave and Bayswater is The Bluffs, a small shopping center with:
Panera Bread Bakery (free WiFi; hours: 7a-8p)
Islands
Carl's Jr.
Chipotle
Quiznos
Daphne's Greek Cafe
Pasta Bravo
Pei Wei
After hours / nightlife
Check the forums for after hours activities. For those interested in seeing a bit of the night life in Orange County we recommend checking out the following scenes:
Irvine Spectrum (Irvine @ 405 & 5 freeways)
Fashion Island (Newport Beach off MacArthur Blvd & Pacific Coast Highway)
Newport Beach (Follow 55 freeway south, and continue on down Newport Blvd to Balboa Penninsula)
Huntington Beach (Dining and Drinking)
Laguna Beach (Arts and Dining)